The need for digital
Ever since the launch of OTT players over the past decade, the telecom industry and its traditional connectivity business have been in a constant state of disruption. Telecom operators (telcos) have since been looking for ways to reinvent themselves – externally and internally – to offset the threat and capture the opportunity of digital.
In A.T Kearney's recent "NextGen Operator" study 80% of telcos express a desire to become a "Digital Navigator", selling access, content and services. Moreover, the other 20% can and should also capture the benefits of digital in their commercial and operational functions. Yet the definition of what it takes to achieve this is unclear to most. A.T. Kearney's Practical Digital framework articulates the true meaning of digital across five areas.
'Practical Digital': Breaking digital down and making it actionable
"Why Digital": The success of digital in a telco begins by answering the fundamental purpose of digital in a company. For example, the digital needs that enable a platform play for a "Digital Navigator", which is looking for direct top-line impact from digital services, are inherently different to those of telcos pursuing other models where digital is primarily a bottom-line driver. Clearly, the question of "Why Digital" needs to be aligned upfront and driven from the company's overall strategy rather than as an afterthought.
"The What: Products & Services": Meeting customer needs, especially as a "Digital Navigator", necessitates telcos to move toward a platform play offering a diversified range of personalized services built around a partner ecosystem. Personal / customer data becomes the key monetization driver in creating products and services across connectivity, video, content and other digital services including diversification into adjacent industries such as eCommerce, mobile payments etc.
SK Telecom's app store, T-store, is a case in point. With over 2.5 million visitors / day, it is a leading digital platform offering a host of services including gaming, music, education, mCommerce etc. and an integrated payment platform called T-Pay. Some telcos have also leveraged digital to launch discount brands simplifying pricing yet providing a compelling digital experience. Examples include Ben from T-Mobile, Belong from Telstra and recently in the GCC, Jawwy from STC.
"The What: Customer Interaction": The new norm is for customer interaction to be personalized, omni-channel, and differentiated around 'pivotal customer events' (PCEs).
First call resolution is being replaced with self-social-resolution. Guided CX and personalized recommendations are empowering customers, improving overall engagement and customer experience.
Digital is forcing the redesign of the channel mix to match customers' preferences and an expectation of seamless transition between offline and online channels. For example, Verizon's new physical "destination" store concept provides a differentiated experience by embracing digital in its store design philosophy, offerings and service.
The intelligence that is possible with digital customer interaction can enable telcos to move from good to a "wow" customer experience during PCEs. By linking customer experience to the customer's mindset and their crisis moments or occasional needs, telcos can fundamentally redesign and improve E2E customer interactions.
"The How: Operating Model": A sustainable digital transformation can only be achieved when the operating model embeds digital into the fabric of the company. Such a model requires a strong suite of digital capabilities including an understanding of analytics, business and IT integration, and an entrepreneurial and agile spirit.
Deutsche Telecom's Group Innovation+ is an orchestration function that drives roll-out of new innovative digital services by integrating new product development, technologies and business models. In addition, the operating model needs to incorporate a strong partner ecosystem that is essential to scale rapidly and satiate customers ever evolving needs. For example, NTT's iMode mobile internet platform delivers services to its customers based on a close collaboration with content providers and platform and handset vendors.
"The How: Process & Delivery": Processes and Delivery is the core enabler of digitalization, simplification, agility, speed and personalization. Telcos and tech giants such as T-Mobile, Verizon and AWS are embracing DevOps environment to build an agile environment, reduce complexity and time to market.
Emerging models such as NFV (Network Functions Virtualization) and Software Defined Network (SDN) are increasingly seen as an effective way to de-couple from complexities of the legacy system. Major telcos such as AT&T, Vodafone, Telefonica and Orange are already active in the development of NFV and SDN. AT&T's goal is to have 75% of its network using NFV and SDN by 2020.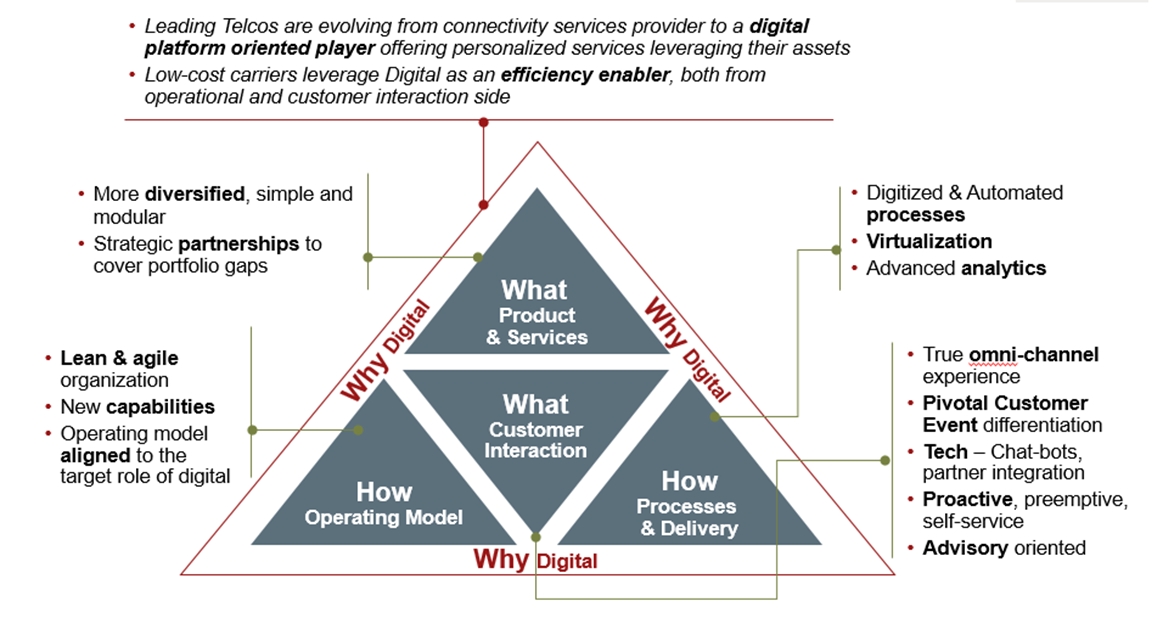 Telcos are increasingly focusing on 'low-touch' provisioning, investments in automation, fit-for-purpose IT systems and tight partner integration to further derive benefits from digital. Big data infrastructure has become crucial for mining customer insights and monetizing customer data.
Charting your own digital journey
While telcos are increasingly focusing on "digital", the inroads made and consequently the impact achieved has been limited. Attention is still over-weighted towards trying, often unsuccessfully, to replicate a few well-known success stories on "Products & Services" diversification (with mPayments in East Africa the most notable example), and "Customer Interactions" enhancements that are usually more isolated and tactical than integrated and strategic.
Operators that address "digital" in a holistic manner focusing across all five PracticalDigital areas can truly enable a successful digital transformation that unlocks revenue potential and enriches customer experience, while achieving operational agility and cost optimization. Most importantly, while the five areas are common to all, there is no single prescriptive end-state or path so each operator must demystify digital internally and use this newfound clarity to chart its own journey.