Cities today occupy just 2 percent of the earth's surface, yet are home to more than half of its people. That will increase to two-thirds by 2050. The profound implications of this global migration require a fresh way of looking at urban centers—one that encompasses a new set of ideas and technologies.
The challenges
The global population shift toward cities is bringing increased pressure to urban areas in terms of energy use, environmental protection and citizen safety. Managing urban areas is expected to become one of the most important development challenges of the 21st century by many observers such as the UN DESA Population Division. Cities have to do more with less amid increased competition and must find more efficient and sustainable financial models, optimize infrastructure and offer smarter services. They are also competing to attract business and talent, while taking care of citizens' wealth, security, privacy and well-being.
The opportunities
Cities have many opportunities to face these challenges and become "smart." These are enabled by technology, and in particular the internet of things (IoT), where everyone and everything becomes connected through data from billions of sensors everywhere. This vision is being enabled by improved Broadband speeds, diversified connectivity options, cheaper sensors and user interface devices, as well as innovative new applications and users. The Internet of Things (IoT) refers to the constant exchange of information among "smart" physical devices, including machines, vehicles, buildings and other items embedded with sensors. Network connectivity enables these objects to collect and exchange data, and be controlled and coordinated remotely.

The centrality of data is a common theme in smart cities. Some collect and use self-generated data to build their own applications and services; others have taken more of a "publishing" approach, seeking to make available their data to stakeholders, or to "curate" data provided by others, which can be obtained via open data portals or through paid-for data marketplaces. In both cases, the expectation is that third parties may be better able to exploit the data than the city could itself.

Furthermore, new technology platforms, including the cloud-based platform as a service (PaaS), licensed-based on-demand software as a service (SaaS), open-source software and open APIs, will further broaden the reach and effectiveness of smart city services and citizen convenience, while creating new cost efficiencies.
Finally, creative financing models, including public-private partnerships (PPP), will enable all smart city stakeholders to invest in the technologies they require to compete and thrive in a global economy.
The Smart City Playbook
All of these developments and technologies will provide sustainable and productive urban environments—smart cities—that improve quality of life, bolster economic growth, attract business activities and create new jobs. These factors will enhance the way people live and work each day—making the world more productive, smart, safe and sustainable. Many minds and resources are needed to make cities smart, safe and sustainable. Success depends on involving citizens, government, industry, academia and other stakeholders throughout the process, from vision to planning to implementation. With these challenges and opportunities in mind, Nokia commissioned a Machina Research study to find out how 22 cities — from Bristol to Dubai, Shanghai to San Francisco — are trying to become smart, safe and sustainable. The result is a compilation of best practices that urban centers everywhere can adopt: the Smart City Playbook. It aims to provide smart city stakeholders with relevant insights on strategies, solutions and pitfalls to be avoided in the process of becoming smarter cities.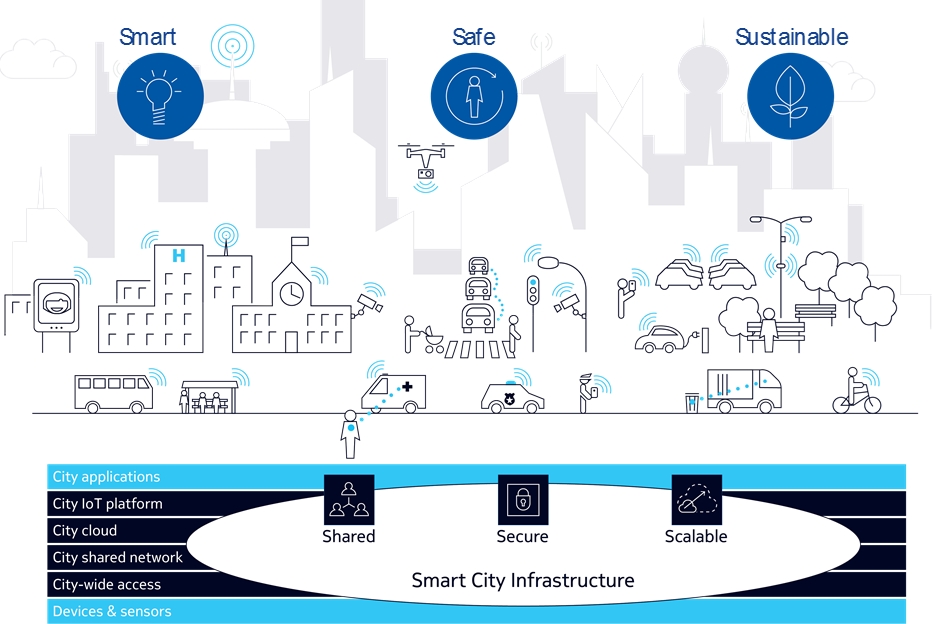 The Six S'S
Amid increased competition and the imperative to do more with less, cities looking to thrive in the days ahead must get "smart" by investing in the six s's: shared, secure and scalable information and communication technology (ICT) that enables human possibilities in a way that is smart, safe and sustainable.
Infrastructure: shared, secure and scalable
For optimal smart city implementation, a shared, secure and scalable infrastructure is needed.
Shared: To maximize synergies and minimize costs, city administration services can share reliable wireless and wireline IP broadband network infrastructure, applications and data over a single IP infrastructure. Application and service providers can have access to a 'horizontal' city platform with common set of capabilities, and residents can have ubiquitous and real-time access to applications, anytime and everywhere.
Secure: In a world where cybersecurity and data privacy are high on the agenda, endpoint and data protection, device management, authentication and authorization, traffic profiling and encryption are key points on both governments' and citizens' checklists. And, just like scalability, true security can only be achieved when possible threats are taken into consideration upfront.
Scalable: Many smart city initiatives will start small, but grow fast, and scale big. As such, the time is now for anticipating a massive take-up of sensor devices and applications, as well as an equivalent growth in data and network traffic. This can only be achieved through a city ICT infrastructure that is scalable by design.
Applications: smart, safe and sustainable
Effective applications are essential for smart city success. The Smart City Playbook groups smart city applications and activities under the categories of smart, safe, and sustainable.
Smart: These applications improve the quality of life for citizens, bolstering innovation, as well as social and economic development. These make cities more attractive places in which to live, visit and do business.
Safe: Applications which prevent or minimize the risks of adverse events, including crime, accidents and natural disasters.
Sustainable: Sustainable applications minimize the environmental impact of the municipality's own operations and the activities of its businesses and citizens. "Sustainable" also means selecting the right business model to fund, invest and cost-efficiently manage innovations.
Nokia's commitment to smarter, safer, and sustainable cities
The approach to building out IoT applications is far too often silo-based, which is costly and time-consuming, neglecting interoperability, security, availability, scalability and sometimes the interdependence requirements for each application.
To assure smart city components that you can rapidly create, deploy, integrate and manage, a holistic, horizontally layered architecture based on leading products and solutions is required. It should align with the larger smart city ecosystem to assure shared, secure and scalable operations support. Our smart city framework is based on a horizontally layered architecture encompassing the following:
City-wide connectivity — both fixed and mobile access to connect all people, devices, systems and sensors
A shared city-wide network — a single converged IP-based network for operational efficiency and lower costs
A city cloud architecture — with a virtualized software-defined network to flexibly connect sites, people and applications quickly and securely

A city IoT platform — to manage sensors and devices and collect, analyze and make data available to third-party applications

City applications — developed within an innovation ecosystem of trusted partners.
Working with an open ecosystem of trusted partners—including technology vendors, application developers, service providers, system integrators, utility companies, research institutions and others—Nokia continuously explores new systems, applications, content and services. A good example is the ng Connect program, through which we have built an ecosystem that enables more than 300 member companies, including leading network, consumer electronics, applications, platforms and content providers. We work with these partners to develop standardization initiatives, solution concepts, end-to-end prototypes, business models and market trials that will unleash the full potential of the IoT and smart cities.
Our commitment to the six s's: building shared, secure and scalable infrastructures that enable the human possibilities of smart, safe and sustainable cities - means that Nokia is strategically positioned to help governments, communications service providers and large enterprises deliver on the promise of smart cities.