Following decades of comfortable margins, GCC telecommunication operators' financial standings are deteriorating at an alarming pace: Combined GCC telco revenues growth came to a standstill in 2016 at USD 33bn and profitability is eroding. In fact, two thirds of the region's telcos faced decreasing EBITDA margins (Earnings Before Interest, Tax, Depreciation and Amortization) in the past year and a third of GCC telcos just achieve EBITDA margins in the twenties to low thirties. As connectivity revenues continue to represent the vast majority of business, nascent revenues such as Information Technology (IT) services have yet to gain traction and still do not contribute to a material bottom-line impact.
Moreover, Capital Expenditure (CapEx) to revenues remains at high levels, reaching mid-teens level all the way to 20% of revenues for converged operators. Such a trajectory is plowing telcos Return On Capital Employed (ROCE), which dipped from 27% to 19% for GCC operators combined over the last five years. Some operators have reacted by slashing investments, which may jeopardize future growth.
A digitally-enabled operational efficiency turnaround can -allow GCC telcos to tackle these challenges, while enhancing customer experience and sustaining returns in the longer run. Leading telcos have made great strides in digitizing their operations, by not only covering their customer-facing activities and services, but also by reinventing activities across their whole value chain.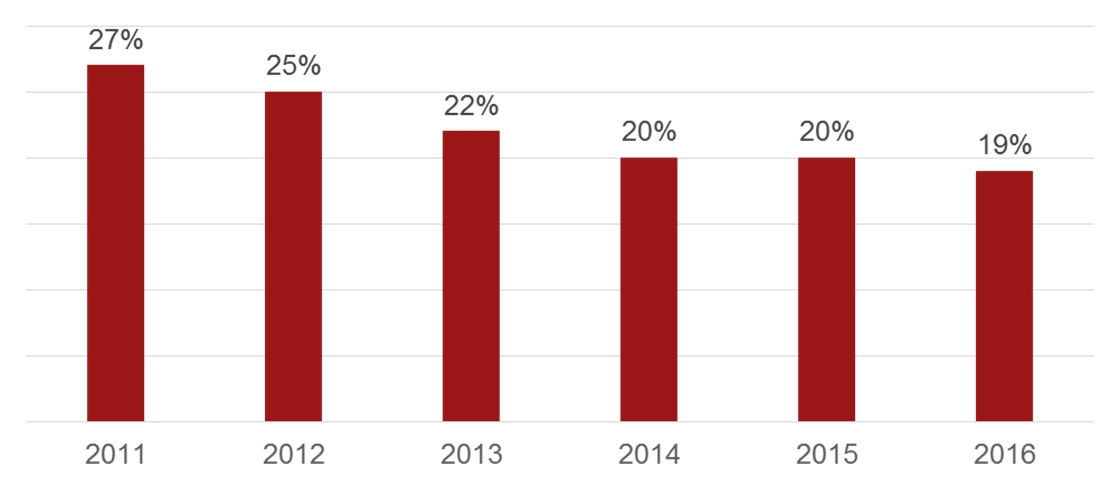 Current financial performance may not be sustainable
Several GCC telcos are facing a declining ARPU coupled with rising traffic, along with a sustained inflationary pressure on their cost base. Maintaining their trajectory will drive the region's telcos to lower EBITDA margins which can no longer sustain current capital intensity levels. Especially when taking the upcoming 5G investments into consideration, and, in some countries, the additional spectrum that operators will need to acquire, careful cash flow management is needed.
In fact, A.T. Kearney experience shows that by looking at the performance of around 200 telecom operators globally top global performers have achieved a reduction in total cost per subscriber of around 8% per year during the 2014 – 2016 period. GCC operators, conversely, are struggling to achieve a marked reduction in this metric, which is poised to further deteriorate as the subscriber base saturates.
Global top performing operators outperformed because – amongst other things – they have shifted from an incremental approach to holistic cost management. They moved from discretionary budget cuts and efficiency improvements measures to a bold re-think of their entire operating model-a digitally-enabled operational efficiency turnaround. Simply put, a 5% across-the-board Operating Expenditure (OpEx) reduction no longer suffices to safeguard margins while several cost categories have already been "cut to the bone" over the last years.
A.T. Kearney has launched a comprehensive digital benchmark of telecom operators to track the degree of digitization along their core activities. Our analysis reveals a clear correlation between top quartile performers in terms of efficiency and their degree of digitization.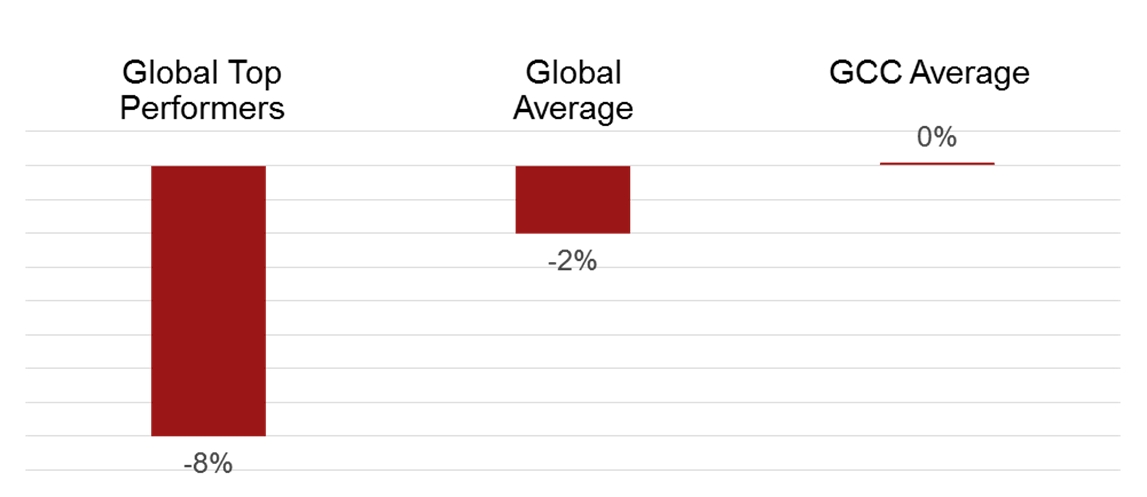 Shifting from an incremental approach to a digitally-enabled operational turnaround
A new lean digital operating model for telcos is achievable, even for integrated incumbent operators with greater complexity. Like US and European flagship airline carriers in the early 2010's, which emulated low cost airlines and underwent radical transformation, telcos can learn a great deal from Over-The-Top players (OTTs) and disruptive late telco entrants and apply key concepts to their operating model (e.g. the no frills, digitally-enabled offering by Free in France).
In fact, our research shows that operators that have advanced the digitalization of their operations have also increased their operational efficiency across the value chain. Today, leading operators achieve operational efficiency levels that are superior by 20% all the way to over 30% when compared with GCC operators that still operate in a legacy fashion.
Below, we share some key levers to drive a digitally-enabled turnaround across the telco value chain, particularly relevant in the GCC.
Technology and Operations:
While most GCC operators have addressed inefficiency in their mobile networks, fixed networks still have ample of enhancement opportunities. For example, remote line provisioning and resolution enable substantial reduction in installation and repair costs. Globally, operators typically provision over a third of new lines remotely (i.e. without sending on-site technicians) which is not the case for operators in the region.
Digitization and automation of network processes and data mining/analytics to prioritize efforts such as for preventive maintenance remain key focus areas. In addition, operators are also adopting a customer experience management view, inserting probes on the network to measure customer perception of quality.
On the sourcing side, procurement transformation – focusing both on building up best-in-class agile procurement capabilities in tight alignment with the requirements of business and technology, and benchmark-driven large-scale strategic sourcing programs - is essential. For telco groups, we see the successes with strategically combining OpCo purchasing power for specific categories (e.g. Radio Access Network and large outsourcing contracts) and sourcing them center-led.
Another key lever is sharing of both active and passive elements. Average tenancy ratios in high-efficiency markets reach 2.5 (i.e. more than 2 operators share on average every tower in the country), which enables close to halving both OpEx and CapEx compared to single-tenancies. In addition, when smartly setup, TowerCos can help optimize cash flow and CapEx budgets significantly.
Sales:
On the commercial side, successful telcos have actively worked on reducing the number of low-value transactions across retail channels and shifting focus from volume to value. Regional operators often under-invest in digital channels and can achieve substantial savings by further pushing online and telesales especially for low-value transactions. Leading operators are typically able to migrate around 15% of transactions to digital channels.
Operators also look to realign sales incentives with the actual value created. Commissions represent up to 18% of OpEx for mobile operators, and are typically hard to address due to market-specific multi-level distribution systems and complex commission components. Regional telcos often leave commissions to indirect sales channels untouched as a supposed "must pay" to keep market momentum. Leading operators are investing in analytical, big-data driven bottom-up approach to drive the commissions / Subscriber Acquisition and Retention Cost (SARC) yield efficiency and thus optimizing indirect channel profitability. Ensuring transparency on SARC profitability by partner, product, or even Point of Sale (PoS) by calculating lifetime SARC margin can achieve a SARC budget decrease of 10% to 20% and an improvement of partner profitability of around 10 pp.
Customer Care:
We see a major shift in the way successful telecom operators are looking at customer interaction and experience – following the example of OTT players. While many operators, especially in the GCC, are still focused on those historically critical Key Performance Indicators (KPIs) such as Average Waiting Time and First Call Resolution, the leading players are all geared towards concepts such as 'no service is the best service' and self-social-resolution. We see that investments in speech recognition, chatbots, self-service apps are maximized by top-tier operators – leading to reduced cost base and radically improved customer satisfaction. For example, a European operator eliminated 70% of customer pain points related to products, billing, and payments by simplifying its portfolio and fully digitizing all processes, while in parallel reducing 35% of related OpEx.
Support and Overhead functions:
Automation of many support and overhead processes and outsourcing of the low value-add activities across HR, Finance and facility management is a primary lever for lean telcos. Even strategic corporate functions move to a lean, pool-based resource model. The challenge for these functions lies primarily in overstaffing and an unstructured reliance on third parties. Typically, operators look to contain support and overhead costs to 10% of relevant process-related OpEx. As many regional operators currently exceed this level, a very significant reduction in this cost area is warranted.
Bold moves to enhance efficiency while improving customer experience
Most telecom operators looked until recently at efficiency as a pure financially-driven exercise. This often led to different views on cost optimization between for example the CFO and Commercial functions.
While historically at odds, today the digitally-enabled operational turnaround allows to become radically more efficient while strongly improving overall customer experience. In fact, they are two re-enforcing efforts.
This is an opportunity that many telco operators still need to recognize - and those that do can truly re-invent themselves and achieve sustainable superior returns.