Video surveillance has become an important tool for the police to solve cases as well as an important means for city governance. More than 50% of criminal cases in China are solved using video. Many cities have set up video teams to enhance the professional use of video surveillance. The central government's released "966" and "Bright as Snow" project documents are clear proof of the importance the country is giving to video surveillance construction. At the same time, everyone realizes that in the process of using video, some traditional construction methods also restrict the function of video surveillance. For example, video surveillance that cannot be fully shared, low efficiency in smart analysis, video Big Data collision and mining with surrounding information that is inefficient, the video platform not being open, and so on. Therefore, the industry is in need of a new construction model to solve these problems. This is how the Huawei Video Cloud Solution came into being.
Early May, a senior student from certain university went missing for 8 days and the news spread quickly through her circle of friends. The people not only forwarded the news, they also gave advice to the police, telling them things such as "There are no other cameras along the way, find more cameras!" and "She's been missing for many days, check the video surveillance". The author believes that the police had already done that before being told to. However, finding one person from so much video footage is like finding a needle in a haystack, one can only imagine how hard it is. The difficulties that local police encounter are not isolated, current video surveillance construction and applications have the following common problems: incomplete coverage, unavailability when incidents occur, and applications that are not smart. The author imagines that if this location had already set up the Video Cloud Solution, they could take the girl's picture, load it onto the platform, the system would be able to analyze her trajectory across the city and monitor it to quickly find the missing student.
Is that so? What is the Video Cloud Solution and is it really that powerful?
As cloud computing, AI, and Big Data technologies are being used more and more in public safety, how do we enable video surveillance systems to possess high intelligence and Big Data capabilities to become more valuable when incidents happen? This is an important challenge that city administrators are facing. In order to meet these requirements, Video Cloud presents a new era video surveillance construction plan. Video Cloud has the four following features: full sharing, high intelligence, Big Data, and openness.
Full Sharing: A Camera Can Be Viewed at Any Time From Any Place.
Traditional video surveillance is siloed. Each area and department is constructed independently using different suppliers and technology standards. This results in siloed data, creating isolated islands of data. When the police is solving cases they often need to go to the site to check the video and making a copy of the original to bring back to analyze. The efficiency is low. After using the Video Cloud method, all cameras are connected to the cloud in a service-oriented method that allows the requesting department with the required authorization to use it, enabling video sharing and video checking anytime, anywhere. Apart from this, since the cloud system is used, every computing resource, storage resource, and network resource is virtualized into the resource pool for unified management. When a department or a business requires, resources can be distributed, scaling up or down flexibly as needed, achieving rapid service rollout and greatly improving the resource utilization rate.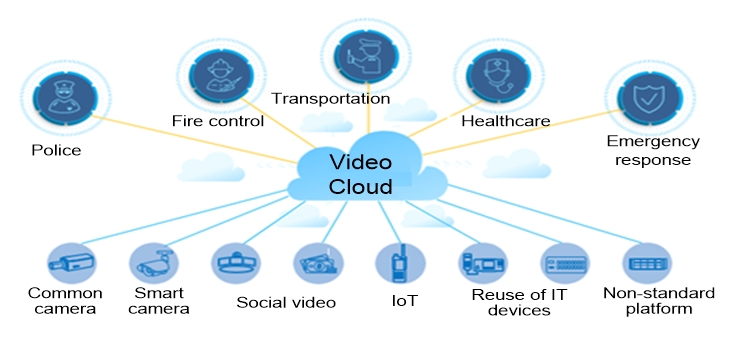 High Intelligence: Distributed Smart Analysis for the Entire Network, Centralized Algorithm Management, Results are Aggregated in Layers
AI technology has already reached commercial use in recent years. Facial recognition technology in video surveillance has become widely used and video smart analysis applications have entered a new stage. However, current mainstream applications are still partially intelligent. They lack cross-domain analysis and linkage capabilities. Nowadays, city transportation is advanced, the population's mobility is large, criminals are also displaying more mobility when committing crimes, cross-domain and cross-city crimes are common, requiring large-scale smart linkage. The Video Cloud Solution achieves network-wide distributed intelligence, smart analysis algorithms are centralized, distributed, and managed from the front end, to the edge, to the cloud center. In this way, analysis can be conducted locally, the center can conduct results aggregation, smart association, and full-city linkage. At the same time, since it is based on a cloud platform, the video can be stored and analyzed locally, unlike the traditional method which required transferring the entire original video to another device for analysis. This greatly improves analysis efficiency and saves network resources.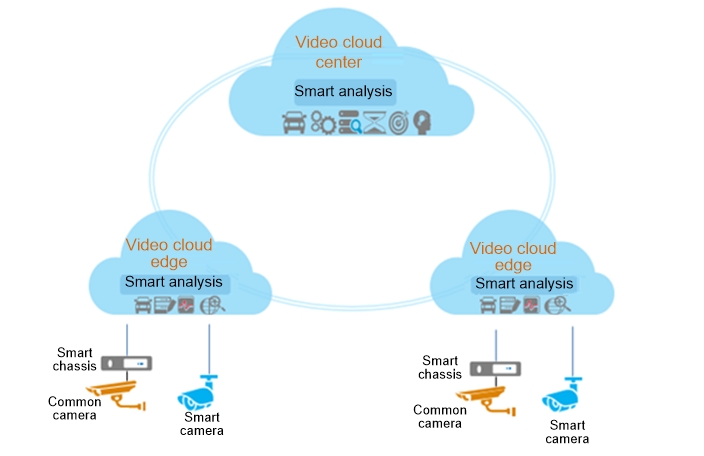 Big Data: Deep Mining, Finding Valuable Clues Fast
Just using smart video analysis for solving cases is not enough. We still need to take the results of the video analysis for internal association (linked mining) and external association using Big Data technology, organizing large amounts of video footage data to discover valuable clues quickly. Then, we must take the video's Big Data and surrounding data (transportation, communications, residential, network, and others) to once again carry out data collision and mining, discovering more valuable intelligence. An example would be taking facial recognition and geographical positioning information for association in order to visualize the person's trajectory on a map. The person's trajectory and communications, Wi-Fi, and residential trajectory can be integrated and be used as real evidence. When searching for a cloned car, we can take the license plate and car model information for comparison. When the license plate appears in a different area, the appearance time and physical distance are correlated, making it possible to find the cloned car. Once we have these capabilities and combine them with the entire network's distributed smart capabilities, we are able to conduct city-wide distributed control, real-time alarms, and fast arrests. Apart from this, video Big Data can also serve city management. For example, traffic flow trends can be predicted and travel efficiency can be optimized through the statistical analysis of traffic flow at different roads and intersections. Video Big Data is an important part of Video Cloud. It is an important converter for video value maximization, it is an important means to serve public safety, city management, and citizens, and it is a component that Video Cloud cannot be missing. Going back to the beginning of this article, if we had these technologies, the missing university student would have been timely found using Video Cloud.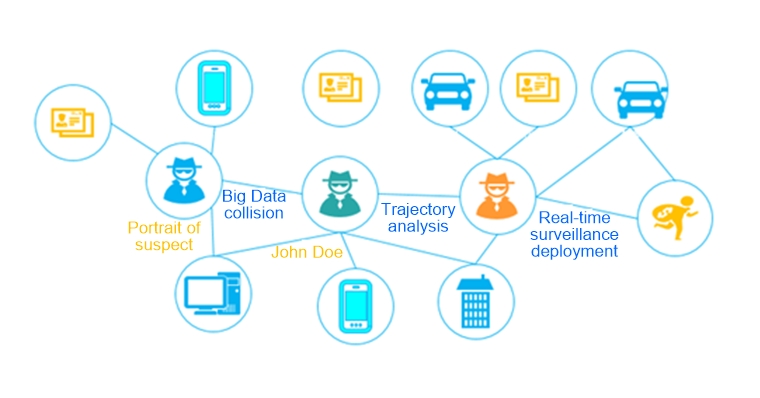 Openness: "Platform" + "Ecosystem", Achieve Benefits for All
As cloud computing technology becomes more common, every industry is going through a cloud transformation. At the same time, smart technologies are changing by the day, updating fast, and various algorithms are merging and being used in real sites. Relying on one single enterprise or being bound to one kind of technology will mean losing the initiative to make choices in future development. Video cloud is set on the idea of "platform" + "ecosystem", using industry mainstream open OpenStack cloud operating system, Hadoop Big Data platform, GB/T 28181, ONVIF, and other standards, while using southbound open algorithm interfaces, IoT interfaces, camera interfaces, and northbound open application interfaces. This allows customers to easily construct an open, flexible, secure, and smart video surveillance platform to meet the innovation requirements of continuously evolving and developing services. Ecosystem partners can develop algorithms and applications quickly and efficiently, achieving the fast replication of different projects. At the same time, Huawei is actively conducting joint innovation with customers and industry mainstream partners, providing customers, applications, and onsite usage with the industry's best practices at the fastest speed.
The above-described Video Cloud Solution is Huawei's customer-centric development trend that combines the customer's business requirements and new technologies with the ecosystem's development requirements. This creates an integrated video solution that through a period of market investigation and project expansion and proves that the Video Cloud Solution can efficiently satisfy customer existing requirements regarding construction and future evolution.
The cloud era is here and Video Cloud will redefine city video surveillance. It will change the barriers of the previous video surveillance systems that looked good but were not useful. Sharing, high intelligence, Big Data, and openness will become the typical proof of the new phase of video networking construction. It will also add diversified value to video surveillance itself, which is of great significance for improving city public safety management, innovating social governance, and serving the people.
HUAWEI CONNECT 2017, Huawei's flagship event for the global ICT industry, will be held at the Shanghai New International Expo Centre, September 5 to 7, 2017. The theme is Grow with the Cloud. During this global platform for open collaboration, Huawei will help customers and partners explore new ways to grow through digitalized transformation.
For more information about HUAWEI CONNECT 2017, please visit our website: http://www.huawei.com/minisite/huaweiconnect2017/en/