Contrary to the misconception that the advent of 5G mobile wireless technology will render Fiber Optic Cable (FOC) obsolete, 5G will in fact drive demand for fiber, as well as strengthen the business case for FTTH networks, avers a key official of Oman Broadband Company (Oman Broadband).
Simply explained, 5G networks are actually a mixture of radio and fiber, and FTTH service will ultimately evolve to offer Terabit/s and more, well beyond the capabilities of radio services.
So what is behind the misconception? According to Bader Al Zeidi, General Manager Network Planning & Technology at Oman Broadband, the fallacy stems from the mistaken belief that 5G networks may offer Gbit/s services in the future – the same way how FTTH networks offer Gbit/s services today. As most users connect their devices to the network using wireless, they incorrectly assume that the arrival of 5G will spell the end of FTTH, he explains.
Not only is this claim completely untrue, but in the race for bandwidth fiber will emerge as the unquestionable winner, according to Bader. "While it is true that 5G will make available higher bandwidths to customers, in the order of Gbit/s or109 bit/s, a single optical fiber is ultimately capable of carrying 1 Petabit/s or 1015 bit/s, on a single wavelength. With the advent of DWDM technology this can be increased by a factor of 96, by allowing 96 different wavelengths to be multiplexed into a single fiber, according to latest standards. Therefore the requirement to provide high bandwidth to each home is enduring, as bandwidth demands continue to increase," he stressed.
This is also evident for the 'law of internet bandwidth' which over the past 30 years has demonstrated that the demand for fixed bandwidth has doubled every 18 months with no indication in sight that this trend is change (see chart below). "We are therefore confident that the demand for bandwidth at home will continue to increase," Bader noted.
Also auguring well for the strong growth of fiber, the General Manager points out, is the need for an optical fiber connection to each 5G base station when 5G is eventually rolled out – a process called 'backhauling'. After all, fiber is the only medium that can carry the required bandwidth economically.
Additionally, as most 5G base stations will be located in populated areas within the FTTH coverage zones, it actually strengthens the business case for FTTH. This is because 5G backhaul services can be offered from the same FTTH infrastructure at little extra cost, according to the official.
Fiber enjoys unparalleled superiority over 5G. The light that is carried by an optical fiber typically has a wavelength of 1.5 um, or a frequency about 20 Petahertz (20 x 1015 Hz). 5G technology, on the other hand, generally uses microwave technology with frequencies in the range 1 to 5 GigaHz. Since the bandwidth carried depends on the frequency of the carrier, fiber can ultimately carry bandwidths of about 1 Petabit/s, far higher than 5G.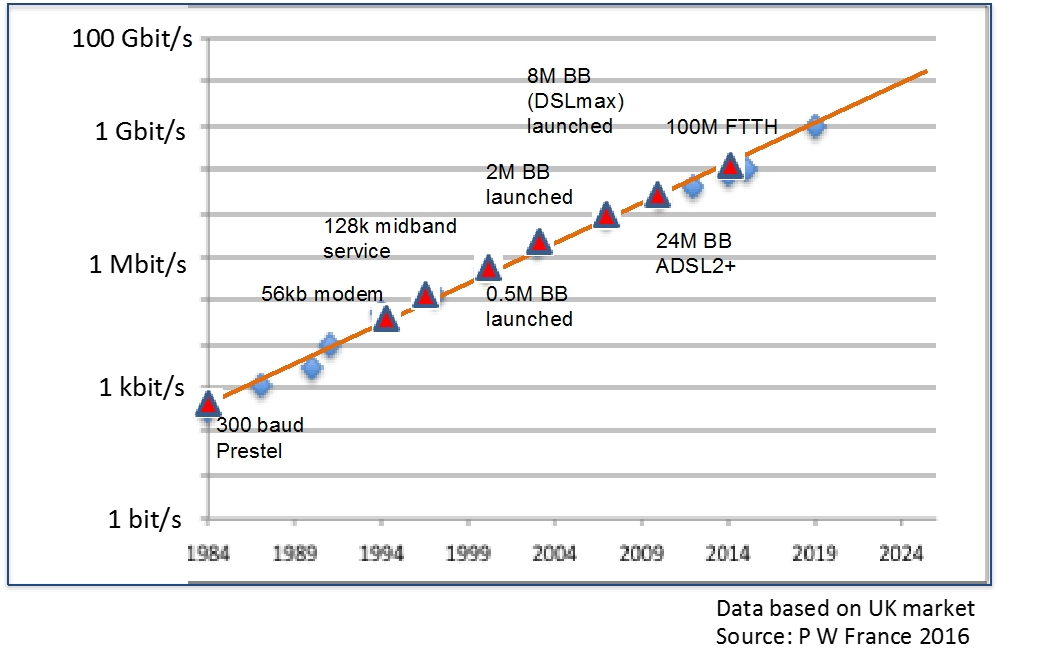 In addition, it is now possible to carry multiple wavelengths (or carriers) in a single fibre without interference, and a single fibre can carry up to about 96 carriers. The transmission speed in each medium is similar and both determined by the speed of light in their respective media.
"There is no doubt that 5G technology will be a substantial improvement on 4G, and will allow bandwidths of up to about 1 Gbit/s to be offered to each customer. Remember that this is shared bandwidth so as usage increases the available bandwidth to each customer decreases, and hence cell sizes will also decrease to restrict the number of users on each cell. Moreover transmission powers will decrease, allowing an increase in battery life for such devices," said Bader.
The telecom services professional sees the two technologies as complementing each other rather than competing with each other. "Most customers connect their devices to the network using wireless, be it 5G or WiFi. However, these wireless access points are all fed by fiber, be it Fiber to the Home (FTTH), or Fiber to the Base Station. Since most 5G base stations will be located in populated areas, where fixed FTTH service is also required, there will be a great synergy between 5G and FTTH."
Likewise, if FTTH infrastructure is rolled out, then fiber can be provided to 5G base stations at little incremental cost, since fiber will already pass through the required locations. Conversely, if fiber infrastructure is laid out for 5G base stations first, then it enables FTTH to be installed at a later date at much lower costs, he explained.
In either case, these converged network approaches complement each other, and allow synergies between the two technologies, whilst strengthening the business case for fiber. Above all, the demand for fiber increases, since there is a demand for two applications, Bader pointed out.
The executive cited in this regard the example of Verizon in the USA, which has announced a major fiber purchasing agreement with Corning, as the telecom giant prepares for 5G services, as well as the expansion of its FTTH networks. "So we view fiber as the cornerstone building block of the next generation network," Bader quoted as referenced from Lowell McAdam, CEO & Chairman Verizon, 18/4/2017.
Muscat-headquartered Oman Broadband is rolling out a national broadband network in support of the Sultanate's National Broadband Strategy. The company has been incorporated as a private entity to focus on the deployment of a passive fiber network infrastructure, providing equal and open access to telecommunication service providers, on a wholesale basis, and owners and operators of private networks, on a retail basis, thereby enabling end users to efficiently leverage high speed fiber in Oman.
As a result of Oman Broadbands's broadband infrastructure, the main service providers Omantel, Ooredoo and Awasr can sell high speed internet services offered over these fibre connections. "Oman Broadband is set to complement these companies by offering them a unique and cost effective way to provide better services to their customers in these challenging times, with low financial risk. In turn, Oman Broadband will be able to provide fiber connections to 4 and 5G base stations located in these populated areas."
Wholly Omani government owned Oman Broadband is moving energetically to expand its fiber footprint across Oman, while also adding to the potential for more 5G mobile base stations. In addition, the company is building long-haul fiber services as part of a national backbone network to interconnect major centers of the population.
"Last but not least, we are now extending our reach into rural areas, so that we may offer broadband services to the more remote and less populous regions which nevertheless need broadband access. There are many challenges to be overcome in these areas, and we are looking at many options and striving to find a viable solution," said Bader.
In essence, 5G will materialize in its true sense only with the availability of fiber on its backhaul side, stressed Bader. "All telecom operators need to gear up for more fiber to support the evolution to 5G and here, where we as Broadband comes to support and complement their effort for a better preparation to 5G," he added in conclusion.