In the last decade, telecoms operators have come to the realisation that their actual playing field can be broader than the traditional connectivity business. They have increasingly been trying to expand into the digital services world, where a series of web-scale players are setting the agenda and extracting value out of a new ecosystem of digital data-rich services. The likes of Google, Netflix, Uber and Airbnb have deployed platform models that allow them to scale their business and enjoy asset-light, data-driven 'freemium' business models1 which enable market disruption. The Telco Cloud model is the response from the telecoms world. This model enables telecoms operators to evolve from traditional physical infrastructure businesses to 'co-opete' (i.e. simultaneously compete and co-operate) with those web-scale players and strengthen telecoms operators' foothold in the digital economy.
The Telco Cloud model uses network function virtualisation (NFV) and software-defined networking (SDN) technologies as building blocks. These technologies equip the telecoms network to run on the cloud using commercial off-the-shelf hardware and turn the telecoms network into a software-based engine which can be automated due to centralised routeing functions. The comprehensive and effective implementation of these technologies thus enables the transformation of the telecoms network into a virtualised and 'software-ised' factory. This transformation can unlock the rich set of capabilities and sources of data (as in 'information') that exist in the telecoms network: application programming interfaces (APIs) expose these capabilities and data sources to third parties, such as business partners and customers. Such third parties become part of an ecosystem of partners which can co-create value, to the mutual benefit of the operator (shared, incremental revenue on top of standard connectivity services) and of the value-added-service partner (new business). For example, in its November 2017 analyst and investor conference call, Vodafone described the platform concept underpinning its Digital Vodafone strategy: new services, Vodafone Passes and the Internet of Things (IoT) are all enabled by a digital platform approach.
A comprehensive network transformation using NFV/SDN technologies has a number of key benefits:
Service agility. A fully virtualised and 'software-ised' network allows for the launch and remote configuration of network services from a centralised console, which is expected to reduce time to market for traditional and new services. NFV automation supports customer self-service deployment of network services through a portal, reducing deployment timeframes and accelerating time to revenue. This service agility will in turn considerably enhance customer experience by making new service features available more rapidly, allowing customers to customise their services online and charging customers only for what they use.
Cost leadership: Using general-purpose, standardised and inexpensive servers and storage devices as the hardware infrastructure to provide network functions and network control is expected to reduce hardware costs. The pooling of hardware resources is expected to improve capacity utilisation and defer new hardware investments. In addition, power management features in standard servers, and the ability to scale virtualised network functions (VNFs) on demand, are expected to reduce energy consumption. Finally, the increased automation and remote configuration enabled by NFV/SDN is expected to reduce headcount by limiting the need to send technicians to sites to manually configure network equipment. For instance, Telenor, which has already deployed virtualised networks in Pakistan and Thailand, expects to establish common IT operations across Asia, consolidating data centres and reducing its yearly run rate by around 60% in 2020.
Scalability: The ability to create traffic routeing rules and to instantly scale network services up or down based on the level of demand is expected to reduce traffic congestion and enhance overall quality of service.

Fully achieving the benefits described above requires viewing migration to the Telco Cloud model as more than a network transformation – it should be considered as a broader company transformation. The network is at the core of an operator's business: it is the basis for what an operator sells, and its cost and capabilities determine the value/revenues an operator can generate. A fundamental change in an operator's network technology can only be made along with a significant change in its operations and organisation. The introduction of virtualisation and 'software-isation' requires telecoms operators to develop a digital mindset and a digital organisation to deal with these changes. Operators therefore need to transform their ways of working, their culture, their skillsets and their processes. Figure 1 illustrates the key aspects of a Telco Cloud transformation.
While the Telco Cloud model is a promising new approach likely to deliver positive transformational impact, it also presents a number of key implementation challenges:
Legacy infrastructure: The physical network is a vast collection of proprietary equipment, across different domains (voice, data, transmission). Similar services may be provided by different systems, such as voice running on TDM, VoIP and IMS.2 Virtualising the network means replacing all these systems, boxes and their management systems with their virtualised equivalent, which will run on a horizontal cross-function virtualised network function infrastructure. This is not a simple task given that operators host, operate and maintain a wide variety of legacy physical equipment due to years (if not decades) of customer services. Thus, for most operators, the virtualisation journey is expected to be a long-term process of more than ten years.
Product immaturity: Some of the NFV/SDN technologies, such as containers, are evolving and immature and may pose unacceptable risks for certain virtualised network functions that need to support mission-critical parts of the network and millions of subscribers. Some protocols implementing NFV/SDN, such as OpenFlow supported by the Open Networking Foundation, have also seen alternative approaches being developed to achieve the same objective, with little certainty as to whether one or several will be adopted unanimously by the industry. Assessing the level of technology maturity, in line with an appetite for risk and an overall skill level, is therefore essential to a successful implementation.
Regulatory obstacles: While the Telco Cloud model seeks to unleash a wave of innovation on the telecoms industry, the regulatory framework that applies to telecoms operators needs to catch up with the move. Industry-specific regulations such as interconnection regulation, net neutrality and data sovereignty may create significant impediments to operators moving fast in terms of the implementation of this model.
In this context, telecoms operators have very different strategies for network virtualisation. Analysys Mason has benchmarked the network virtualisation maturity of 35 operators worldwide in the Nokia Telco Cloud index (TCi)3. As shown in Figure 2, there is a strong correlation between operators that have already implemented virtualised network functions in their production networks and those that have prioritised Telco Cloud transformation as a top-three initiative for their companies. When network virtualisation is valued at a strategic level over other technology initiatives, it is clear that this drives interest, investment and involvement across the organisation, resulting in faster progress towards commercial deployment.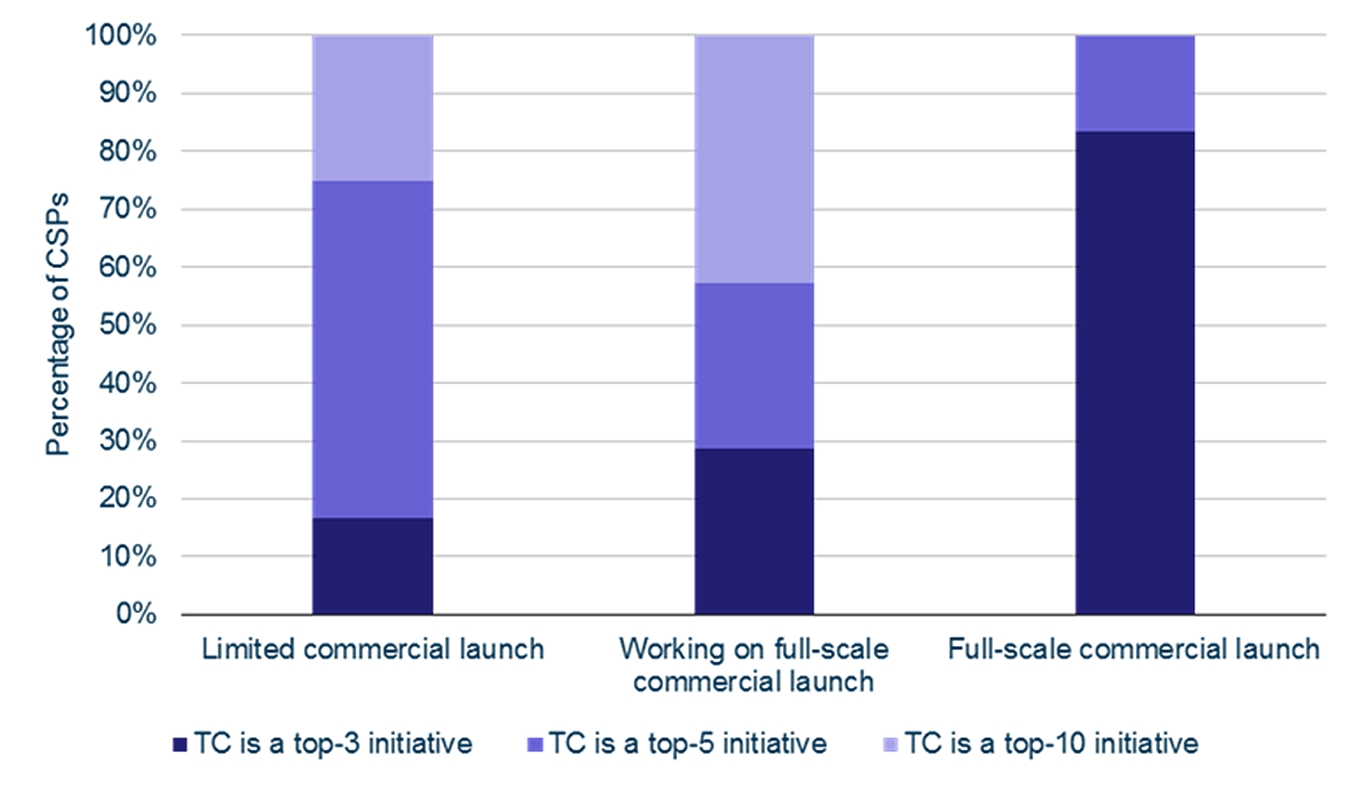 However, even the most visionary operators believe network virtualisation is not as high a priority as investment in their access networks (LTE+, fibre-to-the-home, 5G). Operators' attitudes to network virtualisation vary depending on their aspirations as businesses: for example, whether they aspire to become digital service providers, or see themselves as real-estate/utility companies. Few operators in today's market truly wish to transform themselves into digital organisations that can operate like Google or Netflix: able to release new product features to the market every few hours, automate their operations end-to-end, develop open-source software innovation and invest in cutting-edge technology companies to differentiate themselves from their competition. Many operators cannot cope with the scale of the change involved; others do not see the urgency for change.
In summary, the Telco Cloud model is a promising new approach for operators to transform their bsuienss and become better shaped for the digital economy. This model encompasses a comprehensive and long-term technology transformation as well as a broader and no less extensive company transformation. Given the implementation challenges, it is crucial for operators to define their stance on this new model, and the related approach and timing for its implementation. Analysys Mason is currently supporting operators in the Middle East region to define their strategy and implementation approach in relation to the Telco Cloud model in order to help operators prepare themselves for this upcoming mid- to long-term industry shift.