A common misconception is that 5G networks will offer Gbit/s services in the way that FTTH networks offer Gbit/s services today. Many users connecting wireless devices networks incorrectly assume 5G means the end of FTTH. However, this is completely untrue. In fact, fibre will emerge as the unquestionable winner in the race for bandwidth. Instead of rendering Fibre Optic Cable (FOC) obsolete, 5G will drive demand for fibre, whilst strengthening the business case for FTTH networks.
5G will operate in two frequency bands - Sub6GHz and mmW – promising fiber-like speeds to be offered to each customer. However, this bandwidth is shared, so available bandwidth decreases as the number of users increases. Therefore, if mobile operators don't offer sufficient cell site density, they will need to install more resources, shared among a relatively small number of users that otherwise won't be able to get high data rates from their mobile terminals.
5G will make high bandwidth available to its customers, in the order of Gbit/s: from 1 to 1G (109 bit/s) depending on the frequency band that 5G operates. However, a single optical fibre is capable of carrying 1 Petabit/s (1015 bit/s) on a single wavelength. With the advent of DWDM technology this can be increased by a factor of 96, by allowing 96 different wavelengths to be multiplexed into a single fibre. Light carried by an optical fibre typically has a wavelength of 1.5 um, or a frequency about 20 Petahertz (20 x 1015 Hz). As bandwidth carried depends on the frequency of the carrier, fibre can ultimately carry bandwidths of about 1 Petabit/s: far higher than 5G.
Over the past 30 years, fixed bandwidth demand has doubled every 18 months and there is no indication this trend is about to change (see figure 1). We are confident that the demand for bandwidth at home will continue to increase. Another driver for fibre growth is the need for an optical fibre connection to each 5G base station– a process called 'backhauling'. Fibre is the preferred transmission medium for 5G, and will be able to carry whatever bandwidth 5G and future evolutions of the mobile technologies might require. Most 5G base stations will be located in populated areas within zones covered by FTTH, strengthening the business case for FTTH: 5G backhaul services can be offered from the same FTTH infrastructure at limited additional cost. In addition to higher broadband speeds, 5G will also boost Fixed Wireless Everywhere, ideal for currently underserved areas such as rural regions where fibre deployment is currently seen as too costly. Regardless of operators' preferred business cases, cell sites densely populated or rural area s will generate large amounts of data that need to be backhauled, and optical fiber is always the preferred medium for this.
On the other hand, as an important share of all base stations will be located in populated areas , where fixed FTTH service is also required, there will be a great synergy between 5G and FTTH. Considering the fact that the greatest proportion of the cost of deploying optical fiber is in the civil works part, it makes sense to dig a trench once to simultaneously provision for both fixed and mobile networks in that area: so -called 'structural convergence'. A converged network approach allows technology synergies, whilst strengthening the business case for fibre.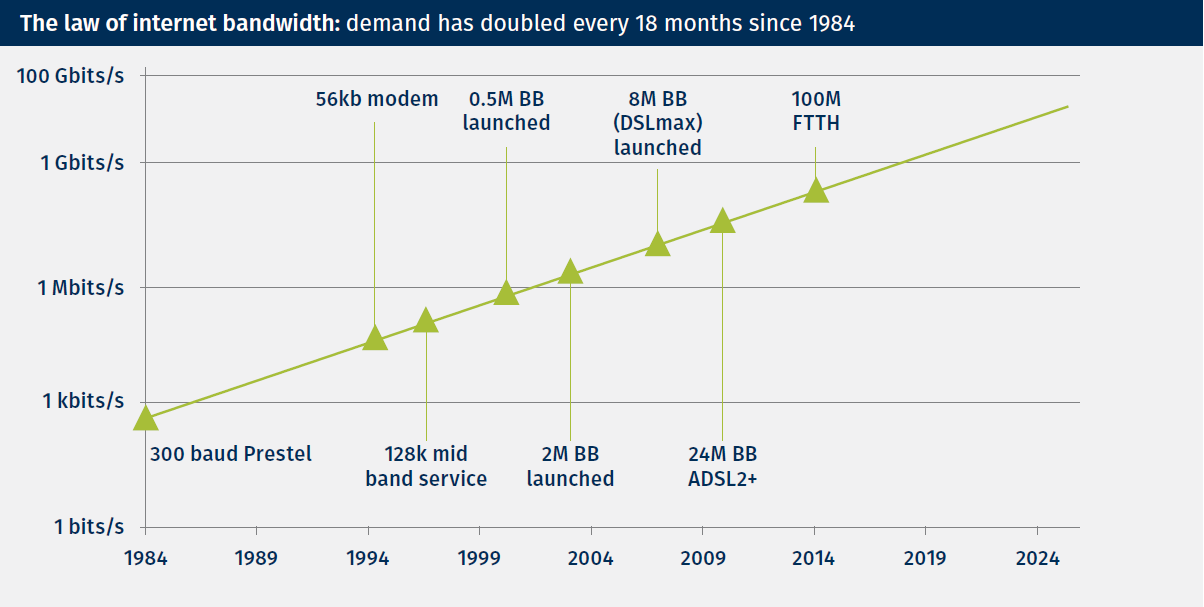 Fibre is the cornerstone of the next generation network. In 2017, Lowell McAdam, CEO & Chairman Verizon USA, announced a major fibre purchasing agreement with Corning, in preparation for 5G services as well as FTTH network expansion. In Oman, a national broadband network is being rolled out in support of the Sultanate's National Broadband Strategy. Government-owned Oman Broadband focused on the deployment of a passive fibre network infrastructure, providing equal and open access to telecommunication service providers (wholesale) and owners and operators of private networks (retail), enabling end users to efficiently leverage high-speed fibre in Oman. Main service providers Omantel, Ooredoo and Awasr can sell high-speed internet services offered over these fibre connections. In turn, Oman Broadband will be able to provide fibre connections to 4 and 5G base stations located in these populated areas. The fibre footprint is being extended across Oman, while potential for more 5G mobile base stations is being added. The company is also building long-haul fibre services as part of a national backbone network to interconnect major population centres. Oman Broadband is also extending its reach into rural areas, to offer broadband services to more remote, less populous regions.
In short: 5G will only materialize in its true sense with the availability of fibre backhaul. Telecom operators need to gear up for more fibre to support the evolution to 5G.