Success Factors for Becoming a Truly Customer-centric Company
Digitalization has profoundly changed how telcos interact with their customers. Digital customer care is at the forefront of this development.
While in the past, customer care was restricted to in-store services and basic call centers, today's companies can choose from a broad variety of technology-enabled solutions. Digital customer care can establish a critical competitive advantage while reducing the cost of service delivery. But what is the state of digital customer care? How well are telcos prepared to deal with its challenges? And most importantly: What do they have to do to get it right?
With the Digital Customer Care Index 2021, goetzpartners has taken a look at the current state and expected future of digital customer care. We have assembled a panel of 35 experts working in customer care across multiple telcos and related industries.
CUSTOMER CARE : THE CURRENT STATE
Factors driving the digitalization
The study reveals that all experts consider digital customer care as critically important for their business success (score of 4.3 out of 5). This does not come as a surprise. Excellent customer service is one of the few aspects by which companies can differentiate their service offering and retain a competitive edge.
Nonetheless, the transition towards digital customer care is rather driven by competitive pressure than by companies' "intrinsic motivation" to actively embrace this new technology. This is supported by the fact that service quality and speed only seem to play a minor role in telcos' digitalization efforts.
The findings show that, despite being aware of its importance, most telcos still have a long way to go in becoming a truly customer-centric organization.
Key challenges
Our study shows that the major roadblocks to implementing digital customer care are attributable to people-related issues.
The cited "Lack of suitable organizational setup" is often not just limited to the customer care department but relates to the entire company. Technology is another major enabler of digital customer care. The main challenges in this field are typically related to technical implementation and the seamless transfer of data between different channels. Consequently, IT capabilities and the implementation of application programming interfaces, as well as related processes, rank as top priorities.
The journey towards becoming a truly customer-centric company requires major investments with regards to people, processes, and technology.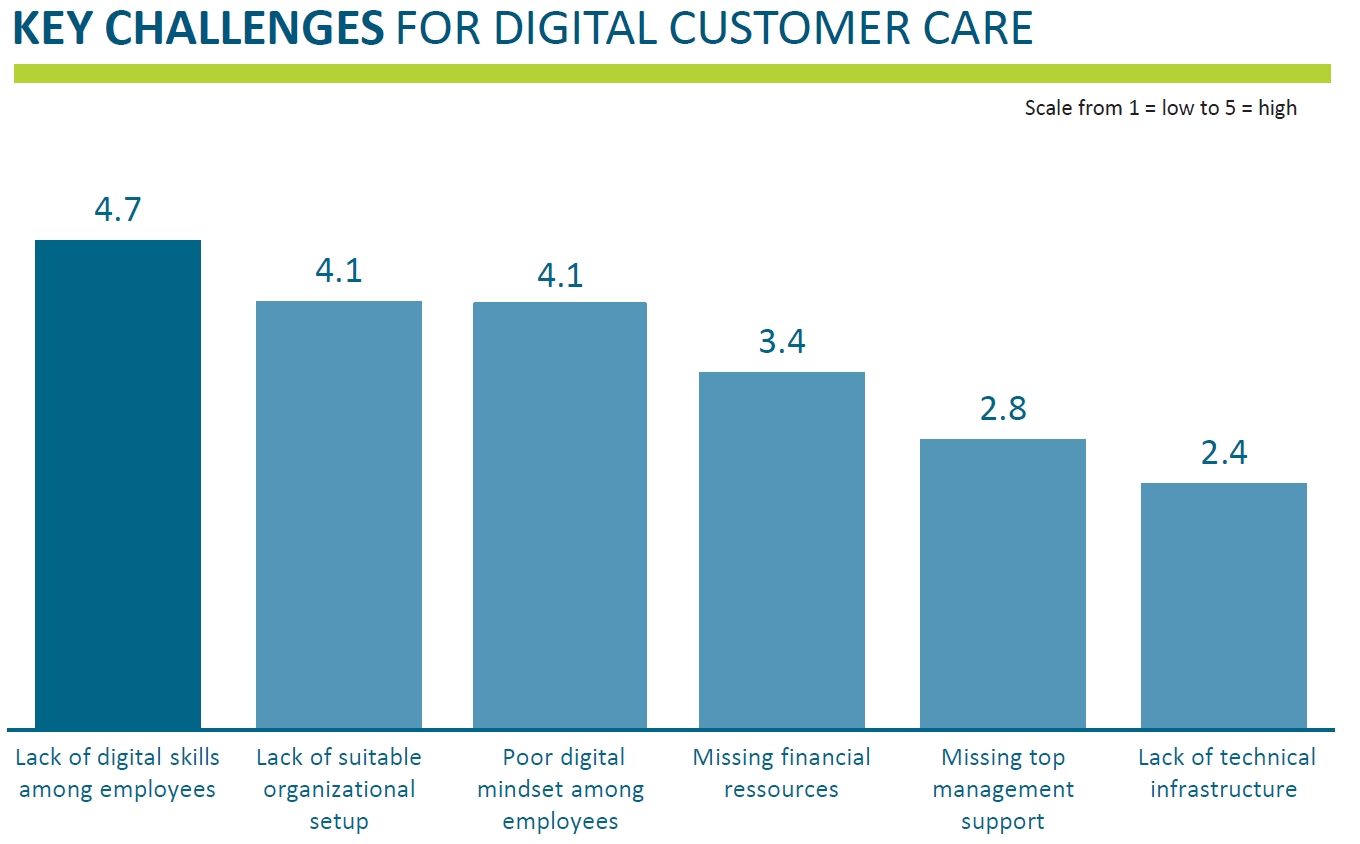 THE FUTURE OF CUSTOMER CARE
Changing the channel mix
The overarching theme of digital customer care's future is omnichannel. Today, call centers remain by far the most important point of contact. Within this channel, an overwhelming share of tickets is still processed by humans. Besides call centers, customer portals and traditional in-store customer care are the most important channels. Chat/messenger and apps only account for a small fraction of requests.
Over the next five years, however, the channel mix in customer care is expected to shift radically, with call centers significantly losing importance and in-store customer service being marginalized. Customer requests are expected to be distributed more evenly across multiple digital channels, including customer portals, chat/messenger, user wikis/forums and apps.
The study results illustrate that telcos must reallocate resources from a few traditional channels to a broader range of digital solutions.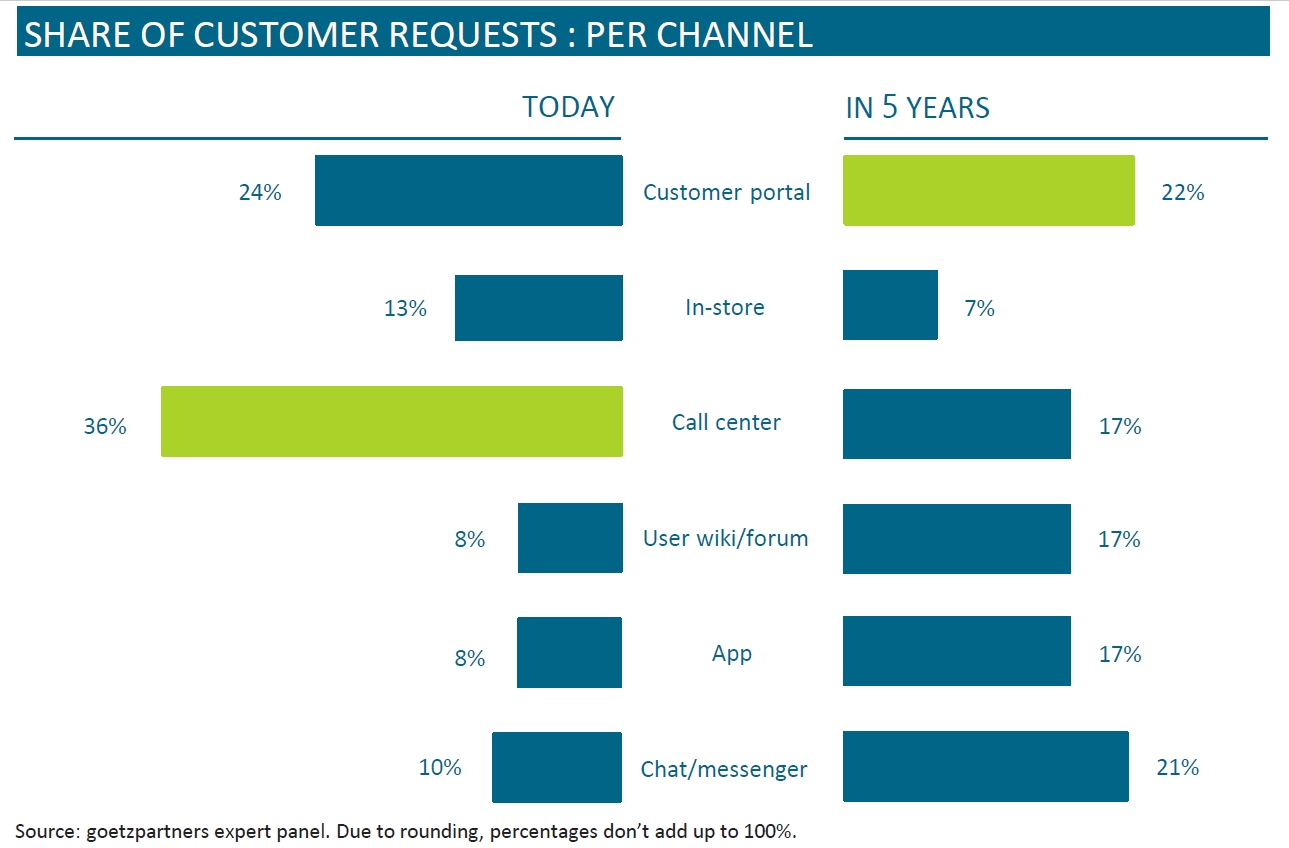 The role of artificial intelligence
The study reveals that technological enablers do not yet live up to expectations. When asked about how well technologies meet current demand, especially chatbots and interactive voice recognition score comparably low with 2.4 and 2.9 out of 5, respectively. Although technologies such as machine learning and artificial intelligence struggle with the complexity of human interaction and language, respondents see them as the most important technological trends (58%). Consequently, investments into state-of-the-art technology and technological know-how are indispensable for companies that strive to play a leading role in digital customer care.