Digital initiatives in 2020 set the pace for innovation and transformation in the network and services
2020 has been a defining year for Etisalat with intensive transformation and agile delivery of services, ensuring a strong performance while making Etisalat well positioned for the future. The unprecedented economic headwinds caused by the pandemic have demanded agility and capabilities to quickly adapt to the present market conditions. Etisalat ensured uninterrupted delivery of services by standing for our communities taking immediate steps to protect our teams and customers and support critical verticals.
This was possible due to the years of investments in infrastructure and digital capabilities making sure that readiness was in place and customers get onboard the digital divide. The pandemic set the need for a new norm accelerated with digital transformation. At Etisalat while we continue to focus on enhancing the core business we are invigorating all key aspects of business with a focus on digital capability building across the group.
There were some great initiatives carried out across Etisalat markets setting pace for digital innovation keeping in line with the company strategy to 'Drive the digital future to empower societies'.
UAE setting global benchmarks
With the fastest mobile network in the world and the most valuable consumer brand in the Middle East and Africa for the fourth consecutive year, Etisalat UAE's digital agenda was accelerated during the year, with data monetisation, the deployment of 5G networks, the harnessing of AI, and an increase in the adoption of digital channels. Additionally, the company identified and boldly leveraged new opportunities by working closely with the government to assist the education and healthcare sectors.
Etisalat remained focused on growing digital business-to-business (B2B) and business-to-consumer (B2C) revenue; enriching core services; driving value by harnessing new technologies (namely AI , data monetisation, and 5G); and increasing the adoption of digital channels.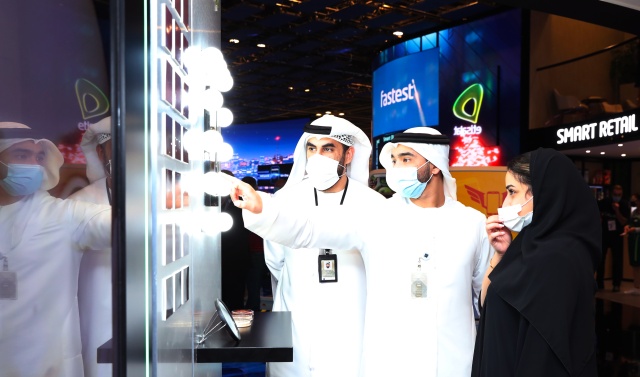 Furthermore, Etisalat UAE has launched fixed 5G services. This will assist the company in extending its broadband services to rural areas. Several 5G use cases and proof of concepts (PoCs) with key entities have also been tested, including for the Dubai Police, ADNOC, and DP World. Each of these organisations is exploiting the power of 5G technology to enable new services and features which were previously not possible.
Etisalat's digital unit made great strides in its digital B2B services, particularly in the areas of cybersecurity, the Internet of Things (IoT), and cloud connectivity. In the cybersecurity space, the integration of Help AG operations concluded in the UAE and Kingdom of Saudi Arabia (KSA), thereby creating the region's strongest cybersecurity unit. This will be a key enabler of secure, seamless, and effective digital transformation for customers.
The company also partnered with the Dubai Police to deliver the Oyoon project. The aim of the project is to raise awareness of e-crime and to improve safety for all citizens, residents, and tourists, using Etisalat's video cloud platform and its AI capabilities. Moreover, Etisalat has worked with the Dubai Multi Commodities Center (DMCC) to create the first smart, sustainable district in the region using the company's 5G network and IoT solutions. Etisalat and the Ministry of Interior (MOI) are, furthermore, continuing to run the Hassantuk project, the first smart fire alarm solution in the region that will cover more than 400,000 villas across the seven emirates.
In addition to the above, Etisalat has evolved towards a Cloud Managed Services Provider, sustained by state-of-the-art platforms and infrastructure, partnerships with global industry leaders, hyperscale cloud service providers, and impressive multi-cloud consulting and operations. The company's cloud computing services are the foundation of digital transformation in all industries. Etisalat has also been collaborating with Amazon Web Services (AWS) and Microsoft Azure to offer Etisalat's Cloud Express. The service enables secure, private connectivity between the customer's corporate network and their public clouds. Etisalat's focus on cloud services has led to the expansion of the company's data centers, with two new facilities opening in Dubai and Al Ain in 2020.
Another area that has witnessed growth is SD-WAN with an overwhelming response from many OEMs and service providers due to its superior features. The value proposition is headed by cost optimisation and efficient performance. Businesses are opting for a managed service provider who can analyse, design, migrate, implement, and monitor SD-WAN solution and provide network performance and application reports. SD-WAN and virtual network services will be the key building blocks for a WAN that can enable business outcomes and become a driver for digital transformation.
The new concept of Secure Access Service Edge (SASE) reduces complexity and improves performance by unifying network, security, and identity management under a single umbrella. In today's world, work is moving outside the office, and securing these remote workers has become a necessity that comes with its own set of complexities. SASE gives businesses the required convergence across multiple areas. SASE can secure cloud, branch network edges, remote users and data centre to deliver a secure SD-WAN fabric across disparate connections.
Enterprises need to review the strategic roadmap for the evolution of the WAN. Assessing the current status of the network, and where it wants to be in the future is critical. Finally, preparing a gradual migration path that leverages existing infrastructure with SD-WAN should be the next step. Due consideration has to be given on how enterprises can optimise the use of AI and automation to give their networks scalability, flexibility, manageability, cost-effectiveness, and security that it requires. A strategic plan backed by intense research and careful understanding of the network architecture will help enterprises build an agile and future-proof network ready to put technology to the most effective use.
Mobily focuses on becoming a digital telco
Mobily announced a digital transformation partnership with global technology company SAP to energise its sales force automation in line with its overall strategy.
Mobily's digital transformation accelerated growth in all the company's digital channels ranging from the portal and e-shop to the application. New registrations in the app doubled while online store visitors and eShop orders skyrocketed.
The company also expanded coverage on the 5G network reaching 50 cities, including most regions in the Kingdom. The company acquired 5G spectrum in 2.6 GHz and 3.7 GHz, increased 5G sites rollout by over 5 times in comparison to prior year and extended FTTH coverage to 26 cities.
Mobily partnered with Ericsson to trial 5G on the 800 MHz and 1800 MHz bands using Ericsson Spectrum Sharing (ESS) technology that allows both 4G and 5G technologies to be deployed in the same band, enabling Mobily to manage network traffic more efficiently.
The company achieved SA 5G network capability for data services offering independent 5G technology with zero reliance on the 4G network. Mobily partnered with Open Broadband to provide Mobily Fiber services. Through the agreement with Open Broadband, 3.5 million homes now have access to fixed broadband services through fiber optic technology.
Mobily also made its first successful 5G voice call in the Middle East known as Voice over New Radio (VoNR), and was made using the SA 5G network.
With business continuity becoming a key component in the pandemic, the company became the first telecom operator in the Middle East and North America (MENA) region to receive ISO 22301:2019 certification, for the new international standard for Business Continuity Management Systems.

Looking ahead, Mobily will continue to implement its "GAIN" corporate strategy as it aligns with Saudi Vision 2030 and ICT Sector Strategy 2023. In 2020, the company succeeded in transforming from mobile centric telco to integrated telco and it aims to become a digital telco in 2021. Mobily will prioritise customer service excellence and to ensure that the most advanced communication technologies are available to its customers
Etisalat Misr focuses on digital enablement for SMBs
The company was the first to introduce B-Digital, a fully digital platform to empower SMBs. This first kind of a platform helps efficient management of operations by giving small businesses the flexibility of managing the services digitally enabling them to smoothly work from home.
Robotic process automations are currently being utilised to reduce the handling time of complex interactions and processes, creating a digital workforce.
Among its other achievements Etisalat Misr launched Etisalat TV, a partnership with E-Vision to launch this state-of-the-art app enabling viewers to enjoy both English and Arabic movies, series and Ramadan productions across smart devices anywhere and anytime.
On the network in terms of mobile internet speed, Ookla ranked Etisalat Misr as having the second fastest download/upload speeds while ranked first for latency.
Maroc Telecom brings digital solutions for students
Maroc Telecom launched the Maktabati service was launched as an online digital library for children and adolescents up to 15 years of age, which provides them with educational and cultural content. More than 10,000 educational books, novels and comics are available on the platform in French, Arabic and English.
As the company continually invests in technologies, it was well equipped to implement the above changes and to deal with the increase in demand and rise of new uses that resulted from the lockdowns. This meant that the quality of Maroc Telecom's services was not hampered during the lockdowns.
In 2020, a new self-help service was launched enabling several services to be combined into a unified, user-friendly web page where customers can manage their mobile, landline and Internet lines in a more autonomous manner and through a single account.
Regarding the digitalisation of customer identification, new features have been deployed on the mobile identification app used by prepaid customers. These features offer full digital access by securing the authentication of customers SIM card, scanning and automatic recognition of their identity document using their smartphone camera and capturing the electronic signature.
In terms of the network, Maroc Telecom's 4G mobile network coverage reached 99 percent of the Moroccan population in 2020.
PTCL focuses on innovation in cashless payments
In Pakistan, as an industry-first initiative, PTCL launched cash-on-delivery services, allowing customers to place orders for CharJi (wireless internet) online or via a dedicated helpline. This provides access to a complete end-to-end service, with ease of payment, biometric verification and a top-up facility, at their doorstep.
For an enhanced customer experience, PTCL also introduced the new AI-based analytical Broadband Answering Model and the Upgrade Propensity Model with the addition of interactive voice response (IVR), emails and one-way and two-way SMS messages.
With the extension of its partnership with the subscription video-on-demand service STARZPLAY by Cinepax, allowing payment integration, it became easier for customers to pay for their subscription as part of their monthly bills. Customers were also rewarded for making payments via UPaisa, an innovative branchless banking solution from Ufone.
Ufone puts efforts in digital initiatives for SMBs
Users are now able to access and manage their bundle plans themselves. They can view their usage, extract their monthly bills and make online payments as well as detailed data usage through Ufone's Web portal, 'BizEaze'. Ufone also collaborated with PTCL in 2020 to offer SME bundle plans for mobile connectivity, wireless broadband, and fixed connectivity 'Triple Play' bundles. The bundles incorporate a number of off-the-shelf solutions that cater to the most critical business requirements of SMEs, from productivity to collaboration, to marketing and sales and more. The solutions are immediately available to customers and are easy to manage. Going forward, the company plans to improve its bundle offerings, with cloud and digital services, and business SMSs, among other things. There is huge potential for revenue growth in the SME sector, and the PTCL Group has the ability to meet consumers' needs in this market.
Ufones's mobile financial services brand, 'UPaisa', was a major move to cashless payments a mobile app was introduced for iOS and Android users, allowing all essential transactions, including QRbased payments. With a simple and user-friendly interface, the UPaisa app allows its users to avail multiple financial services through one platform. The UPaisa app focuses on simplicity and enables users to navigate with ease.
Ufone maintained its ranking as one of the top three operators in Pakistan in 2020, in terms of customer satisfaction.
Afghanistan gives easy access to healthcare and education
Etisalat Afghanistan made it easier for citizens to access healthcare services during the pandemic. Access to medical facilities is limited in the country, which caused a lot of additional stress for members of the public who required the services of a medical practitioner. In the second quarter of 2020, the company addressed the problem by rolling out its Doctor in Your Phone service.
Additionally, the company supported the education sector during this time. Along with the country's other mobile network operators, Etisalat Afghanistan partnered with the Ministry of Education to find a solution to possible interruptions in education. Given Afghanistan's device penetration and connectivity issues, it would not have been practical to use an existing online model, such as Google Classroom or Microsoft Teams. The company thus rolled out an affordable eLearning platform that makes the curriculum materials available in text form.
In 2020, Etisalat expanded its 4G LTE services and accelerated the process of upgrading LTE in Kabul, by adding 35 sites during the year, taking the overall LTE penetration to more than 60% of sites in Kabul. Etisalat's 4G network was rolled out in the Kandahar Province in July 2020.