As enterprises continue on the journey of Industrial Revolution 4.0, it's important to be aware that it is not just about investing in new technology and tools to improve productivity and efficiency, but revolutionizing how businesses leverage every aspect of their operation and are able to collect data, analyze and advise upon it.
The initial adoptions have mostly been, Silos based IoT implementations based on static sequential systems by enterprises verticals like Manufacturing, Transportation/Roadways, Ports, Oil & Gas, Energy & Utilities. Those "Smart" Initiatives are well recognized and have essentially achieved "clever" outcomes by mostly focusing on Digital deliverables for automating the Non real time - Next best actions.
The future use case adoptions require that the architecture for any enterprise progressing on IoT implementations should be designed for achieving large bandwidth, with a scalability to connect millions of devices, whilst delivering on real-time monitoring and analytics, The present implementations have been mainly constrained due to Network connectivity with Fiber Optics which are cost prohibitive as well as lead to operational roadblocks. 5G Technology and especially 5G NR Adoptions will be the solution for Industry 4.0 use cases to come to fruition for enterprises.
Network Transformations with 5G will ensure:
5G adoptions will enable Optimization and Scalability of assets with use cases tailored for specific QoS (Slicing), Latency definitions for industrial applications.
URLLC with Spatial diversity with 5G will achieve 99.9999% Reliability which is a key enabler for adopting challenging industrial IoT applications.
Flexibility with wireless Ethernet, Replace wireline industrial Ethernet for reconfigurable factories
On-device processing and sensing
5G will supplement or complement the Dedicated Local network with an ease to deploy and manage operationally
5G will achieve cellular grade Security and allow keeping sensitive data local
Thus with 5G, industrial IoT applications will be able to process massive amounts of data with a High speed Bandwidth, low latency , high Reliability and cellular grade Security.
5G for Enterprise- A Business perspective
5G has several distinctive enablers, which will not only accelerate new applications and services adoptions, but also create an opportunity for Telecom Operators to transform their role and business models for enterprises.
With Telecom Operators enabling 5G deployments with functionalities like Slicing, URLCC, TSN etc., Operators shall be able to explore business models of assigning a portion of their licensed spectrum in a specific area. Such models shall essentially achieve a Private Network for an enterprise. Ex of such scenarios are for Manufacturing Plants, Factories or even Mines
Also with 5G, the Telecom Operators enterprise Business units will continue to see growth opportunities of Fixed Broadband growth to be complemented with 5G Fixed Wireless Broadband. Additionally, 5G with Rel 16 will accelerate opportunities for replacing the legacy wireline industrial Ethernet with "Ethernet over 5G".
Operators & Industry groups across SAMENA should continue collaborating with the respective country regulators to explore spectrum strategy for the adoption of 5G for enterprises, ex: Germany has earmarked 3.7 – 3.8GHz as the "Dedicated Enterprise Spectrum" at a very nominal fee. This could be an opportunity for existing Operators as well as New MVNO's to get established. Also, 5G with 3GPP Rel-16 will support unlicensed spectrum (5G NR-U) enabling standalone operation. Based on Regulatory clearances for Unlicensed Band use of 5G has the potential to create a disruptive business opportunities as well. It is a growing recognition that 5G transformations across enterprises will remain a significant investment area for all involved with an estimated 200 bil$ annual investment which will keep on growing across this decade. Global studies specific to how Industrial 5G will contribute to the global economy highlight that in 2035 , 5G will enable ~ $5 Trillion global economic output , of which $3,364B will be contributed by Manufacturing , $742B Construction, $659B Transport, ,$249B Mining, $273B Utilities.
As per The World Economic Forum, 5G will drive economic growth in the SAMENA region like no previous generation of mobile technology. The domain choice of IoT connectivity for industries will be 5G. What we see as the investment trends across MEA for the coming few years are primarily driven by industry verticals of Oil & Gas, Health, education, energy, environmental management, Agriculture, Transportation and Smart cities.
Specific to 5G for enterprises, what we have seen in the recent years by Telecom Operator across Middle East, are investments on 5G by Ooredoo in Qatar as the technology of choice for smart-city developments besides developing 5G use cases for soccer World Cup -2022 customer experience. UAE is a strong proponent for 5G adoption and Initiatives like Smart Dubai, are envisioned to achieve outcomes like autonomous vehicles, intelligent traffic systems, and energy and environmental monitoring. Even in KSA, 5G lead transformations are central to flagship smart city projects like Neom. The Saudi government is working towards improved regulations to promote 5G lead IoT transformations.
The Evolution of the enterprise Use cases
As the maturity of the ecosystem and Technology readiness has evolved, so has the demand of Digital services / Use cases calibrated. To share a perspective of such a demand evolution, let's review a few Use cases that are under execution by Tech Mahindra across enterprise/industry verticals like Automotive, Manufacturing, E&U, Healthcare, O&G, Transport & logistics.

Asset Track and Trace
Cognitive Quality Control
Connected workforce
Vision based Picking
Asset Performance Management – CBM & Predictive Maintenance (Specific ex for Oil and Gas)
Digital Asset & Work Instructions (Specific ex for Oil and Gas)
In-Hospital Door to Treatment Time Reduction (Specific ex for Healthcare)
Patient Monitoring inside Ambulance (Specific ex for Healthcare)
Automated Container Identification at Gate/Crane/Yard (Specific ex for Smart Ports)
Empty Container Identification (Specific ex for Smart Ports)
An introduction to Tech Mahindra 5G for Enterprises- "Catamaran Solutions"
In order to ensure the correct approach for the Industry 4.0 Transformations @ enterprise verticals, we need to ensure the correct Architecture is in place. Tech M's "5G for Enterprise" Solutions provides a range of services to Telecom operators and enterprises for implementing 4G/5G wireless networks or WAN/SDWAN Transformations to enable a plethora of IOT use cases.
Tech Mahindra' experience ranges from industry 4.0 floor-to-floor automation, to control of autonomous trucks in open cast mines to logistics and warehousing, to electricity distribution grids, to venue services and much more. Our services remove inefficiencies related to slow, insufficient wireless connectivity and have a strong roadmap to support growing traffic demands for 5G establishment.
To Share a Typical deployment for Industry 4.0 adoption: The Architecture can be understood across 4 primary layers-
Connectivity -4G/5G private wireless network
Edge Computing Platform with Real time Analytics
IoT platform with analytics capabilities
Cloud/ DC Infra with Applications
A High Level Architecture shown above is a framework for enterprise Private LTE network, which highlights the essential parts or domains of an end-to-end system. It is not meant to be a detailed architecture in itself but describes the functional description of the various logical nodes. MEC may host some part of the EPC user plane, Distributed S/PGW deployment model. In contrast to deployment in the above figure, EPC core can be located in the provider cloud, at the far side of the Firewall. In this case, the Home Subscriber Server (HSS) is co-located with the EPC as well and requires a working backhaul to keep the services running.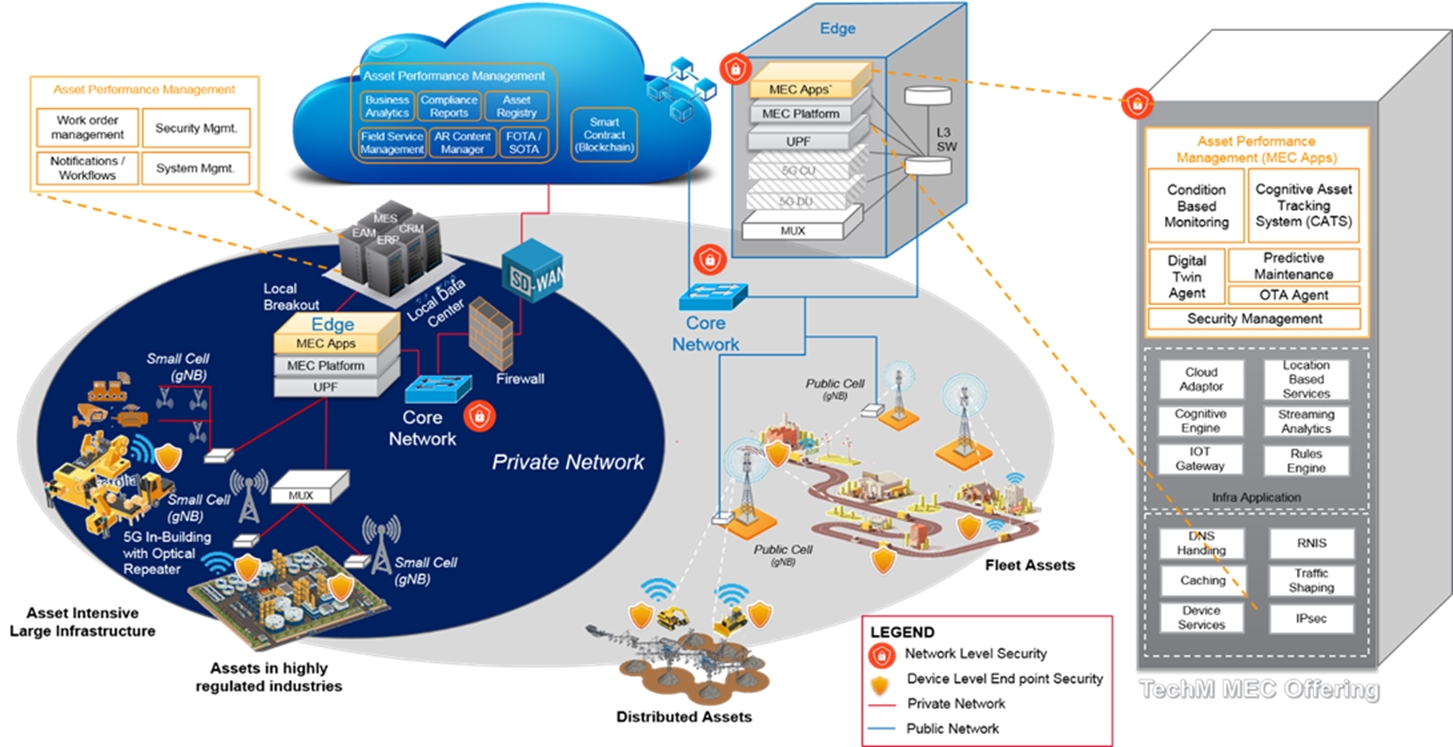 Tech Mahindra's Private Network offering provides an end to end communication solution to enable digitalization of any enterprise. The reference architecture can be customized for any vertical market with minimal impacts to the existing legacy infrastructure. The existing industrial devices, sensors can be retrofitted with wireless data communication modules connecting the PLCs to the wireless network. This network can be extended further to connect other moving parts for any enterprise use cases.
Overview of the Tech Mahindra Solution Offerings:
LTE, P-LTE, WIFI (6) and 5G Planning, Design and Deployment Services
Access (small Cells) & Core (virtual EPC) setup for a factory or an enterprise
Industry Vertical - Specific Custom Application Integration services over Edge and Cloud Compute
Re-purposing existing on-prem applications for edge and cloud residency
Rationalization with Corporate SDWAN and Security architecture
End to End Managed Infrastructure, Applications Services and Network Operations
In Summary: Through this decade, we shall view the Industry 4.0 revolution from a Vantage Point that never existed earlier. This phase of revolution fueled by the adoption of 5G, Hyper-Automation, etc, has challenges that cannot be solved with traditional processes and redundant practices, instead requires skilled partners who can provide Vendor neutral and Technology experienced solutions. Our team at Tech Mahindra is humbled to be recognized as the world's largest independent network services provider. With a proven track record in the SAMENA region, Tech Mahindra is recognized as a leader across deployment, transformations and managing the end to end networks by OEM's, Telco Operators and enterprises. Telecom Networks expertise is one of Tech Mahindra's Core forte for over 25 years, and our teams remain excited and committed to ensure we navigate our customers and partners to reimagine, reinvent and reshape this transformation Journey.